Elizabeth Sanchez :
Performing Artist
Elizabeth was born in Cuba in 1993. It was a very difficult time. During the birth of Elizabeth, there was a power outage in the hospital for more than 15 minutes and electricity generators did not respond. As a result, Elizabeth was in a coma the first thirty days of her life. Elizabeth's life has been an example of perseverance and hope. As a young child, she began singing in the choir at her church, Los Pinos Nuevos in Placetas, Cuba. She moved to the Dominican Republic at the age of 4, where she continued performing at church, very often. Elizabeth's vocal qualities were well received in each church's presentation. At 7 years old, Elizabeth realized that music was her passion and began to pursue, under the guidance of her parents, the study of vocal music. By the age of 11, Elizabeth and her family moved to the United States where she continued her church performances at Baptist Church Estrella de Belen in Hialeah, Florida. In high school, she took choir classes and was accepted into a vocal music magnet program at Michael Krop High School in Aventura, Florida. At 18, Elizabeth started her university studies at Barry University - vocal music major. During her studies at Barry, she actively participates in many choir performances. As a soloist, Elizabeth is working on her first album, a gospel music album. She is the writer of her songs. She dreams of touching people's hearts and minds through her voice and her lyrics. You can watch Elizabeth's Senior Vocal Recital by clicking on the following link. https://youtu.be/FtnI1wMJlhU
Theresa Sareo :
Performing Artist
Theresa Sareo, singer/songwriter/trauma survivor, has a powerful story to tell; one that affirms the saving power of following your dreams. After surviving a horrible accident on a Manhattan street corner that claimed the loss of her entire right leg, Theresa's courageous dedication to her recovery has inspired the amazing journey of her life and career.
She has since become an in-demand motivational performer for audiences throughout the entertainment, educational, medical, corporate, political, faith-based and military communities. Theresa was recently featured on NBC's Today with Kathie Lee Gifford and Hoda Kotb, CNN's Larry King Live, in New York Magazine, appeared on NBC's Law and Order, and was the keynote speaker on healthcare issues with NY Senator Charles Schumer and Former Secretary of State Hillary Rodham Clinton in NYC.  She also wrote and performed "It's Time For A Change" for Mrs. Clinton in Washington, D.C. in honor of her 2008 Presidential Candidacy run.
By sharing her personal story through her music, Theresa aims to teach, heal and inspire awareness regarding the physical and psychological effects of trauma, and how to navigate through personal life challenges. She proudly made history in becoming the first civilian performer to sing the National Anthem at Walter Reed Army Hospital in Washington D.C., and also the first to perform at the U.S. Army's Warrior Transition Units; European Command, through their Department of Ministries, making her a popular trauma-survivor/disabilities advocate and supporter of wounded military world-wide. She has visited and performed at VA Hospitals and Army Bases throughout the country including James A. Haley VA and MacDill Air Force Base in Tampa, FL.  She continues and on-going partnering with Supporting America's Finest, Inc. and headlined their third Military Appreciation Concert in Tampa on February 8, 2014, which raised thousands for the Gramatica Family Foundation.
Theresa's documentary film "Theresa Sareo: Alive Again," produced by Ms. Sareo, Evan Ginzburg (associate producer of "The Wrestler" with Mickey Rourke) and director Rye Joseph, chronicles her survival of the life-threatening accident in Midtown Manhattan on June 11, 2002. This moving and inspiring film offers an up-close and personal look into her physical and emotional recovery and how it affected her life and music career. The movie has won Best Documentary: Audience Choice at the 2012 Gasparilla Film Festival in Tampa and Best Director of a Documentary at the NY International Film Festival—Los Angeles Edition. It was nominated for Best Documentary at the 2012 Reel Independent Film Extravaganza in Washington, D.C.
Theresa was also awarded the Friends of the United Nations' 2012 Human Rights Award for Courage and Leadership for Empowering and Enabling the Disabled in New York City. 
Jessica Tomlinson :
Performing Artist
Jessica Tomlinson plays the piano for private parties, receptions and restaurants.  She also gives music classes for young children in the Pinellas County area.  She is also an academic tutor with a bachelor's degree in education from Saint Petersburg College. 
Matt Weihmuller :
Performing Artist
Matt Weihmuller is a jazz saxophonist who completed both his undergraduate education (magna cum laude) and masters of music at Florida State University in Tallahassee, Florida.
Matt relocated to the Tampa area in 2012, where he has been serving as the saxophone and jazz instructor at the Patel Conservatory at the David A. Straz, Jr. Center for the Performing Arts for the last seven years. Matt especially enjoys the opportunity to provide a well-rounded experience for students who attend the annual Patel Conservatory "Jazz Intensive" summer camp he instituted and continues to direct. He is a frequent performer locally and also tours with several performing groups of varying genres. Matt is also a composer, utilizing specialized music technology for the blind, as well as a frequent speaker, including several engagements as a guest lecturer at the Peabody Conservatory at John Hopkins University in Baltimore. His greatest personal goal, however, is to champion the cause of increasing Braille music literacy for young blind musicians.
Philip Wells :
Visual Artist
Philip began his painting vocation because of his great love of color. His themes generally encompass local sea and scenery of the waterways and beaches of the Brevard county area. His love of painting is something in which he feels he can always express himself and his great love of the sea and natural surroundings.
Philip's style is one of a natural primitive artist ripe with the intuitive love of color and composition similar in the style of the folk arts of early New England seascape painters. His balance of both local scenery and Floridian atmosphere create a peaceful blending of old Florida and its natural surrounding beauty.
Wheelchair Highwaymen :
Visual Artists
Max, JR, and Gordon, aka "Wheelchair Highwaymen" are new Florida Nature Photographers. The daily challenges these men face and overcome have not stopped them from searching for and capturing these beautiful moments. Their goal is to use technology, photography, and nature to inspire and enrich the lives of individuals with and without disabilities.
Abi York (Keris Eure):
Visual Artist
I am 34 years old and have very youthful DNA. Most people think I'm 12. And a boy. But I don't care I think its funny. I'm an Autistic soldier. I fight the battle to be myself when no one understands me and most people want to try to fix me. But I'm not supposed to be fixed the way they want. I am very non-verbal with most everyone. My Mom says I'm full of god wisdom. I love taking pictures and drawing. My hero and inspiration is the Mighty James Durbin. My Mom & my sister are always there for me and they are awesome. My Mom is also my manager and keeps me supplied in ink. I have a white Shamen cat named Punk. He's my soul cat. I use markers for my drawings. My style is abstract with elements of tangle.
Margaret Zabor :
Visual Artist
Now retired, I can develop my skills in watercolor painting, sketching with Tampa Urban Sketchers, and photography. I have enjoyed classes at the Life Enrichment Center in Tampa and online. Art has long been my therapy for bipolar disorder. As an artist once said to me, "I can't not do it."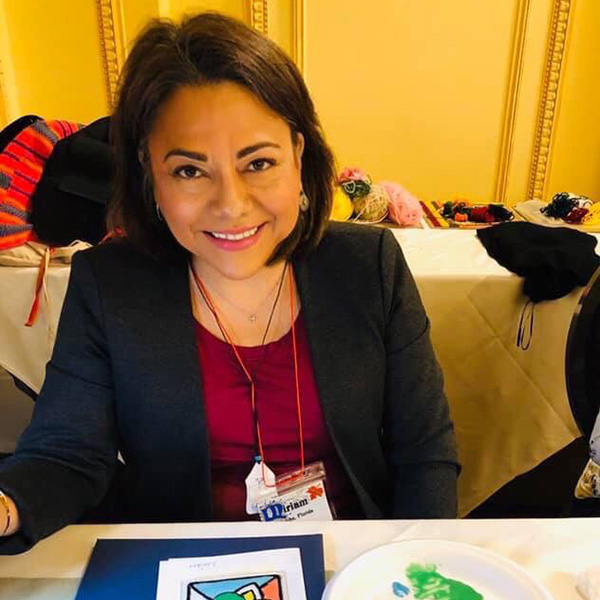 Miriam Zimms :
Visual Artist
I am award-winning Artist and Certified Zentangle Teacher (CZT). I started my art life in 2010 after a battle and victory over breast cancer. In 2013, I was diagnosed with a separate and unrelated cancer, ChondroSarcoma (primary bone cancer). The second cancer required that I spend a lot time in bed after surgery and approximately two-years relearning how to sit-up, stand-up and walk again. I moved from a wheelchair, walker, crutches, over that time-period and now use a cane. Through that rehabilitation process I fell in love with the Zentangle Art Method (Z-Method). I currently volunteer my time teaching Zentangle in the Hillsborough County Libraries at the Children's Cancer Center. I also teach private classes (i.e., AOE Art Supply in Temple Terrace). I enjoy creating art through a Zen process that teaches, "anything is possible, one stroke at a time." And just like in life, there are no mistakes in Zentangle, because we are all imperfectly perfect.